DirtyEast fucking ruled this year. Trevor ruled announcing again, The spectators killed heckling and maximum wrestling style sign usage, and best of all the judges gave the most accurate representation of how a true midwest bmx contest is scored. Chances are if you disagree, then coach Cody Thomas probably gave you or your buddy quite a bit of whistle warnings throughout your runs.
Being the first DirtyEast at the new Flow location, the course was a little rough. Parts of the park were unrideable due to new construction of awesome things to come. However, if you enjoy riding your bike, there was still an overabundance of obstacles to ride. This separated most of the street/park riders. Benefitted the people that know how to use an entire available course and confused the hell out of some that couldn't.
Most of the pro riders had that down though. Flowing in and out of the jump and street sections, big ass transfers, and wall riding fucking air ducts and everything else on the way. Combining that with most all the flip whip spin trickery in the book makes for a very satisfied spectator. I kinda have to write a backseat view of pro day because I was riding more than trying to play contest reporter. However, Mykel Larrin is a beast and can do everything, Zane Bradley does wild spins and has an endless supply of tricks, Vegas Nick Happel runs a straight cable and still does crazy whip/bar tricks, Spencer Scott pedals fast, goes high, and does cool wall-rides and trail style tricks, there was a dude that rides like Enarson that killed all the jumps with solid good looking moves, Steve Oravetz was being a good looking dude and busted his taint, and I just tried to pedal fast and make sure I didn't do anyone else's tricks/vice-versa.
The AM contest kinda make me laugh a little though. A decent turnout of dudes and youngsters, and about 75% of them looked like they were having a miserable time. I literally heard kids yelling at themselves while riding because they didn't land their stupid trick or landed a little flat. Then you have a few riders that look like they're having a blast tricking things to flat on purpose. Some riders sealed their fate by not leaving the jump section and repeating some otherwise badass tricks 2-3 times throughout their runs, while others threw down some quality tricks throughout the entire park making their way into finals. Scottrude "Dan Lacey" Spaid, my homie and minion, decided he was gonna win the contest by doing shit the judges wanted to see and could recognize. This PAB grinds both ways, spins both ways, and can rollback out of anything smoother than Dustin Bauer's ballsack. Then there's Jake Cormier, who easily threw down some of the biggest moves of the day, including 7' truckdrivers to flat, long nose wheelie to 360 off a 4' drop, and other crazy technical moves that i never plan to do. A shoe-in for the win, but i believe only riding one section earned him a very well-deserved 2nd. Cincinatti Ray likes to pedal fast and jump to flat, plus his frame is a cool color green so he walked away with 3rd and the last of the prizes. Other notes are Cody Thomas destroying everything on the course including the foam pit, Cleveland local Kole Grove barspin tricking into a 6th, Frankie Day doing huge backflips and whips throughout the park, and Alex Hetrick deciding to skateboard for half his run.
I had a blast the entire weekend, as did my homies that came with. By far, dirtyeast will always be my favorite contest to attend throughout the year, and a very good representation of how diverse a contest can get. Next year is sure to be even better with the course being completed and more options for more stupid tricks. More pictures, results, and edits to come very soon.
-photos by Jeremy Malishefski
Shady Hecklers drinking soda from koozies..
Spencer Scott superman
Vegas Nick dipped 360
Daboza smith to flat
Daboza gap to wall
Gerber, Beth, P-rad, Coach
Mykel, best rider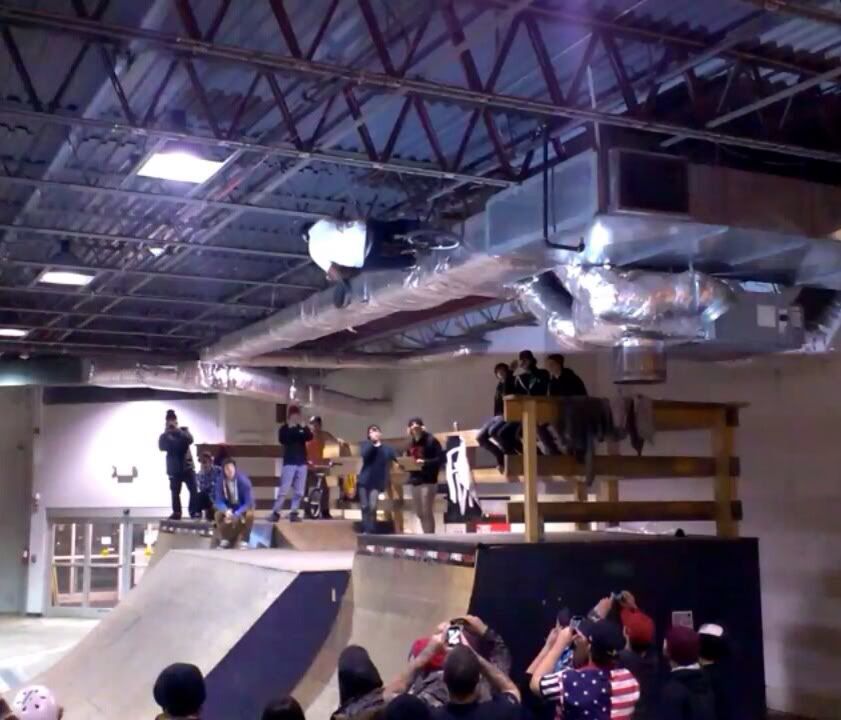 Told you, Best rider Mykel Larrin
Pro top 5 and MC T-rev