Stop 2 of the
BroTour
went off yesterday at New Philly. Mass people showed up and appeared to have a great time. Both Am and Pro classes were real tough to judge as everyone was killing it. We had around 15 entries per class, and narrowed it down to 5 riders per class to compete for the podium.
Gino Santarelli
cruised the entire park smoothly pulling 540s and such tricks over the spine, with a 720 attempt channeling his inner Mike Spinner. A few rookie mistakes like not using the course, and getting hung up on some tricks kept a few guys out of podium contention, but as long as they had fun they can be winners in their grandmas hearts.
Matt Hoffman Obama. Ph:Devore
No stranger to danger
Brandon White
destroyed the Pro contest so much that he had to gap out of the park, and barspin down a pedestrian stairset. We'd see him gap out of the park a few more times with 180s, 360s, and just a straight hop over what I'd deem the gnarliest gap out of the place.
Anthony Pallente
had some big ass gaps of his own he decided to truckdriver about 8' to flat.
Troy Lawson
brought his front brake love into finals doing tricks I couldn't even announce.
Matt O
is clearly going for the Bro Daddy title, always ruling the course with great slams and consistency, somehow he's managed to overrule his goofy-foot spell that was cast upon him when he was a child.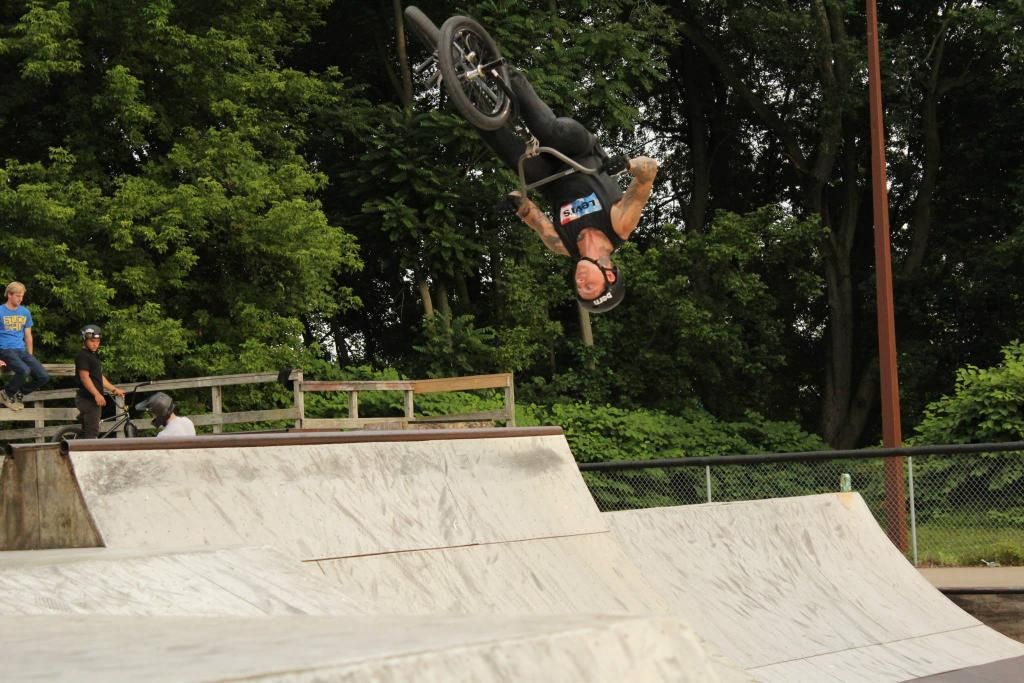 MattO nose 3 over the big spine. Ph:Devore
So much good shit from everyone though, everyone rode great and better have had a good ass time, if not then just quit riding. More pictures and an edit or 2 will be getting posted throughout the week. Seriously thanks to everyone that shows up to these things and helps out. Next stop August 30th at Alliance skatepark.
Amateur:
1. Gino Santarelli
2. Zenen Sanshengin
3.
Logan Higgenbothom
4. Curtis Obama
5. Dutch Clark
Pro:
1. Brandon White
2. Anthony Pallente
3. Joey Emery
4. Matt Omencinski
5. Troy Lawson