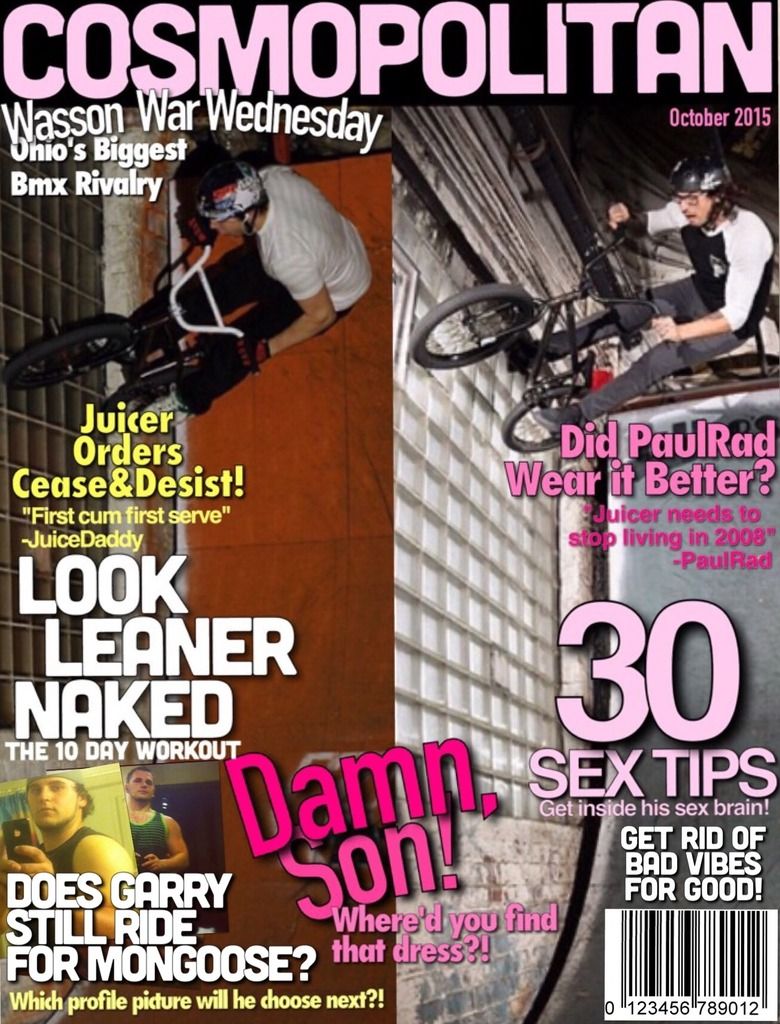 I got wind of this new issue of
Cosmopolitan
a few months back. I wasn't sure what to believe in the ol rumor mill of the BMX world, but now it's come to print, and the rumors are true.
Kevin Guistu
, better known as "
Juicer
", has issued a cease and desist order against
Paul
Radosevich
for distribution of photographic material Kevin believes he has the rights too. "
In the bmx world, it really is first cum first serve, and I risked life and limb calculating all my projected angles to accomplish a feat no others have tried before me
" Juicer states in reference to a photo of him doing a daring wallride at
Rays Mountain Bike Park
(Raysmtb) in Cleveland Ohio.
When Paul Radosevich was questioned for further details about this allegation, he went on to give us some incite on Juicers history. "
Pretty much Juicer has been out to get everyone for anything since he failed to place high enough to make money at a Chenga contest way back in 2004. As far as the glass block wallride goes, Juicer needs to stop living in 2008. My photo just shows bmx progression at its finest. Clearly I went higher and faster so it's almost an entirely new trick
"
So what will become of this mess between Ohios biggest bmx rivalries? Will this affect their current living arrangement? Juicer did leave us on one last note "
A picture may be worth a thousand words, but I'd rather have a thousand dollars instead
". What's he going to do with $1000? He told us he plans to buy 10 Playstation 2s. "
It's just something I need to do for myself
" Juicer told us as he stormed off.